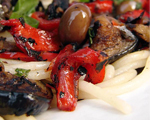 Prep: 20 min
Cook Time: 30 min
Total: 50 min
Serving: 4 Servings
Grilling Vegetables really brings out new depths to their flavors. In this recipe a colorful mix of your favorite veggies makes a delicious topping to delicate angel hair pasta.
Ingredients
1 medium zucchini, halved lengthwise
1 yellow squash, halved lengthwise
1 red bell pepper, seeded and quartered
1/2 fennel bulb, trimmed and halved
1 small red onion, thickly sliced
8 ounces capellini (angel hair pasta)
3 teaspoons olive oil
1 small shallot, minced
1 small garlic clove, minced
1/4 cup dry white wine
1 tablespoon soy sauce
2 tablespoons chopped chives
1/4 teaspoon salt
Freshly ground pepper
Directions
Brush your grill or broiler rack with oil or spray with nonstick cooking spray.
Place vegetables on a baking sheet and spray with cooking spray, or preferably, brush with olive oil. Take the squash, bell pepper, fennel and onion and grill or broil 5 inches from the heat, turning frequently, until tender. Remove from heat and place on cutting board to cool; Cube the vegetables except for the onion.
Cook the capellini pasta according to the directions on the package.
In a large sauté pan, add the oil and sauté the shallot and garlic, about 1 minute. Stir in the grilled vegetables and the wine and heat through. Add the soy sauce, chives, salt and pepper and mix well to combine. Add the capellini pasta and toss to coat. Serve immediately.