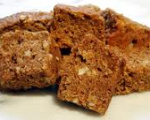 Prep: 10 min
Cook Time: 50 min
Total: 1 hr
Serving: 1 loaf.
Wonderful, decieving looking bread. Serve plain, with fresh cantaloupe or with whipped cream.
Ingredients
1 3/4 cups all purpose flour
1/4 teaspoon baking soda
2/3 cup sugar
1 egg
1/2 cup chopped walnuts or pecans
2 teaspoons baking powder
1/4 teaspoon salt
1/3 cup shortening
1 cup mashed cantaloupe pulp
Directions
Preheat oven to 350 degrees Fahrenheit. Grease and flour a loaf pan.
Mix the flour, baking powder, soda and salt. Sift together three times. Add the nuts. (May omit nuts if desired)
Cream together the shortening and sugar until fluffy. Add the egg and mix well. Add in the cantaloupe. Add the flour and nut mixture 1/2 cup at a time, mixing well each time.
Pour into the prepared pan and bake for 50 minutes, or until toothpick inserted in the center comes out clean. Allow to cool before serving.