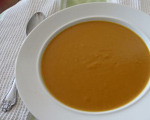 Prep: 10 min
Cook Time: 25 min
Total: 35 min
Serving: 4 Servings
This smooth and creamy winter soup is made with canned pumpkin. Make sure you do not get the canned pumpkin pie filling as a mistake instead.
Ingredients
1 tablespoon olive oil
2 large onions, chopped
2 teaspoons curry powder
1/2 teaspoon white pepper
28 ounce can pumpkin
1 large sweet potato, peeled and diced
1 quart chicken or vegetable broth
1 can light coconut milk, or 1-1/2 cups regular milk
Salt and pepper to taste
Directions
Place 1 tablespoon of olive oil into a soup pot over medium heat. Once the oil begins to shimmer, add the onion and sweet potato, and then sauté the mixture for 6 minutes.
Sprinkle in the curry power, pepper and a few pinches of salt and pepper, and then cook for an additional 2 minutes.
Add the canned pumpkin to the pot, along with the broth, and bring to a simmer. Cook the mixture over medium-low heat for 15 minutes and then remove from the heat.
Using a hand blender, puree the mixture until smooth and then stir in the coconut milk; serve immediately.