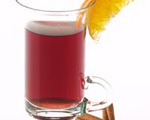 Prep: 10 min
Cook Time: 25 min
Total: 35 min
Serving: 4 Servings
The word "canella" means cinnamon in Italian. Enjoy it in this sweet spiced red wine drink that is traditionally served during the fall and winter months.
Ingredients
One bottle Merlot
10 tablespoons sugar
1 orange peel
1 lemon peel
10 cloves
1 teaspoon cinnamon powder
4 cinnamon sticks and orange slices to garnish
Directions
Put the Merlot into a pot and place over low heat.
Add the sugar and stir the mixture until all of the sugar has dissolved.
Place the orange peel, lemon peel, cloves and cinnamon powder into the pot and allow to steep in the wine for 20 minutes. Do not boil the wine.
Strain the wine mixture using a cheesecloth and pour into 4 wine glasses.
Garnish each glass with a cinnamon stick and an orange slice and serve warm.