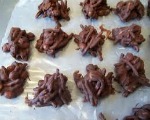 Prep: 15 min
Cook Time: 10 min
Total: 25 min
Serving: about 2 dozen
Crunchy chocolate and peanut candies.
Ingredients
1 (12 ounce) package semi-sweet chocolate chips
1 cup Spanish peanuts
2 cups chow mein noodles
1/2 cup coconut (optional)
Directions
Add water to the bottom of a double broiler. Melt the chocolate in top and stir in the nuts and noodles until well mixed. Stir in coconut if desired. Use a teaspoon to drop onto wax paper. Refrigerate until firmed.