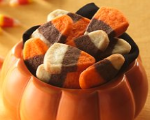 Prep: 2 hr 30 min
Cook Time: 1 hr
Total: 3 hr 30 min
Serving: 9 dozen cookies
Is it candy or is it a cookie? Try these adorable candy corn shaped cookies for the holidays! Adapted from BettyCrocker.com
Ingredients
1 pouch (1 pound 1.5 ounces) sugar cookie mix
1/3 cup butter, melted
1 egg
orange paste food color
2 ounces semisweet chocolate, melted, cooled
Directions
Line a loaf pan (extending over the edges) with wax paper.
Mix the butter, egg and cookie mix until the dough forms.
Take 3/4 cup of dough and knead the food coloring in until the color is even. Press into the bottom of the loaf pan.
Divide the remaining dough in half, and press one half of it in on top of the orange dough.
Take the other half and knead in the melted chocolate until the color is even. Press into the pan on top of the plain dough. Make sure all of the levels are pressed to the edge of the pan.
Refrigerate for 2 hours.
Preheat the oven to 375 degrees Fahrenheit.
Remove the dough from the pan. Cut lengthwise into 1/4 inch thick slices. Cut 5 triangles from each slice. Place each triangle at least 1 inch apart on an nongreased cookie sheet.
Bake for 7 to 9 minutes until edges are a light golden brown. Allow to cool for 1 minute before removing from sheet to cool completely. Store in an airtight container.