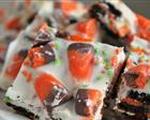 Prep: 40 min
Cook Time: 10 min
Total: 50 min
Serving: 15-20 pieces
This Halloween treat will surely become a party favorite.
Ingredients
16 Halloween-colored chocolate sandwich cookies, chopped
1/2 cup semisweet chocolate chips
1 1/2 cups small pretzels, broken
1/3 cup raisins
1 1/2 pounds white chocolate, broken into squares
2 cups candy corn
Orange and brown Halloween sprinkles
Directions
Grease a small baking sheet and spread the sandwich cookies, pretzels and raisins evenly on it.
Melt white chocolate on the stove using a double boiler, stirring frequently until almost melted. Remove from the heat while there are still a few chunks, and continue stirring until smooth. Keep in mind that white chocolate burns easily.
Drizzle the white chocolate with a spoon over the mixture on the baking sheet. Be sure to cover everything evenly. Top with candy corn, chocolate chips and sprinkles. Let cool until firm or chill in refrigerator. Break into pieces and store in an airtight container.