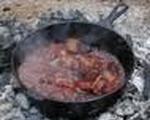 Prep: –
Cook Time: 1 hr
Total: 1 hr
Serving: Serves 6
Campfire venison stew is another camp cooking favorite. Venison stew is filling fare after a hard day of hiking or fishing and is especially delicious when the temperature drops as the sun goes down.
Ingredients
6 slices bacon
1 onion, chopped
2 celery sticks, chopped
1 large carrot, chopped
1 jalapeño, seeded, minced
3 garlic cloves, minced
1 pound venison, cubed
2 cans kidney beans, drained
1 tablespoon Italian seasoning
1, 28-ounce can roasted, diced tomatoes
16-ounces vegetable broth
Salt and freshly ground black pepper
1/4 cup flour
Directions
In a Dutch oven over coals, or a camp stove, cook bacon until crisp; remove bacon and crumble; set aside. In the bacon fat, cook onion, celery, carrot, and jalapeño, stirring often, until softened; remove vegetables and set aside
Add venison to drippings and cook, stirring often, until browned; add bacon and vegetables back to pot, stirring to combine; add kidney beans, Italian seasoning, tomatoes, and broth; bring to a boil. Set Dutch oven to the side of coals or turn down the stove top heat, cover pot, and simmer for 45 minutes.
Taste and season with salt and pepper; stir in flour; cook for another 10 to 15 minutes, stirring occasionally. Serve hot.