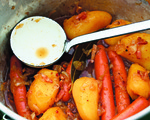 Prep: –
Cook Time: –
Total: –
Serving:
A variation on the theme of the British classic "bangers and mash," hot dogs are great camping material, as they don't require any grilling or frying. This is real soul food, the sort of dish any ravenous crew would welcome at the end of an active day outdoors.
From The Camping Cookbook by Annie Bell, Kyle Books, 2010.
Ingredients
4 or 5 strips of uncooked bacon, chopped
3 large onions, peeled, halved and sliced
8 medium new potatoes, scrubbed or peeled
12 hot dogs
A couple of bay leaves
Sea salt and black pepper
1 mug of chicken stock
Directions
Heat a large saucepan or pot over medium heat, add the chopped bacon and cook in the rendered fat until golden.
Add the onions and continue to cook, stirring frequently, until caramelized.
Add the potatoes, hot dogs, bay leaves and some seasoning and gently mix.
Pour in the chicken stock and gently simmer, covered, for 30–45 minutes, or until the potatoes are tender and sitting in a rich gravy -- but keep an eye on it towards the end of the cooking to make sure it doesn't get too dry.