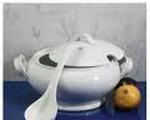 Prep: 15 min
Cook Time: 1 hr 30 min
Total: 1 hr 45 min
Serving: 10
Calypso Pork Stew will make you feel like getting out the limbo stick. How low can you go?
Ingredients
2 pounds pork stew meat, cut in 1 1/2 inch chunks
1, 1 1/2 pound canned ham, cut in 1 1//2 inch chunks
1/4 cup instant minced onion
1 teaspoon salt
1 bay leaf
2 cups potatoes, cubed
2 yellow straightneck squash, cubed
1/3 cup parsley, chopped
1/4 cup fresh lime juice
1 teaspoon coriander seeds
1/2 teaspoon pepper
3 plaintains, cut in 1 inch chunks
Directions
In covered, large Dutch oven or kettle over medium-low heat, simmer pork and ham with onion, salt, bay leaf and 2 cups water for one hour.
Add potatoes, squash, parsley, lime juice, coriander and pepper. Cook 20 minutes or until pork is fork tender. Add plaintains and heat 10 minutes longer. Discard bay leaf.