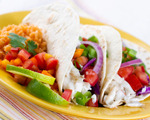 Prep: –
Cook Time: –
Total: –
Serving: 6-8 People
America is certainly quite tasty and two wonderfully unique styles of flavor are highlighted in this meal. Healthy, California fish tacos and big Tex-Mex rice make you want to plan a road trip out southwest! Celebrate America the Tasty with this fabulous dinner tonight.
Ingredients
1 pound of tilapia
1/4 cup key lime juice or fresh lime juice
1/2 teaspoon ground black pepper
1 tablespoon dried oregano
1 teaspoon cumin
1 teaspoon cayenne pepper
2 lime wedges
Corn tortillas (keep them warm by wrapping in aluminum foil and place in the oven at 225 degrees F or wrap in dampened paper towels and heat in the microwave for about 20 seconds)
Avocado slices
Fresh spinach or arugula 
Fresh pico de gallo or chopped tomato 
2 cups chicken broth
1 cup rice
1/2 teaspoon cumin
1 small jalapeño, finely diced
1/2 cup chopped cilantro
Directions
In a small saucepan bring the chicken broth to a boil.
Add the cumin and the rice. Cover the pan and reduce the heat to low. Fluff with a fork before serving and add the chopped cilantro and pepper at the end.
For the fish tacos, place the tilapia in a casserole dish or a bowl. Pour the key lime juice over the tilapia and add the pepper, oregano, cayenne and cumin.
Cover the dish and let it marinate for at least half an hour in the refrigerator.
Remove the tilapia from the refrigerator and place it on a cookie sheet lined with foil.
Place the lime wedges on top and in between each piece of fish. Bake at 425 degrees F for 20 minutes.
Place the chunks of fish in the warmed tortillas, then garnish as desired.