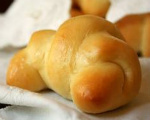 Prep: 12 hr
Cook Time: 10 min
Total: 12 hr 10 min
Serving: 8 rolls
Crescent shaped dinner rolls.
Ingredients
1 package yeast
1/2 cup sugar
1 cup milk
2 eggs, well beaten
4 cups flour
1 teaspoon salt
1/2 cup melted butter
Directions
Mix together the yeast, sugar and milk. Let stand for 30 minutes.
Add the eggs, flour, salt and butter to the yeast mix. Stir well, cover and allow leave overnight at room temperature.
Press the dough out to the size of a 9 inch pie tin. Cut into 8 wedges. Roll each wedge to create a crescent roll.
Place on the greased sheets and allow to stand until ready to bake (up to 8-12 hours).
Preheat oven to 400 degrees Fahrenheit. Grease cookie sheets. Bake for 10 minutes.