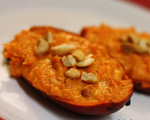 Prep: 30 min
Cook Time: 1 hr
Total: 1 hr 30 min
Serving: Serves 3-6
These seasoned sweet potatoes made with three kinds of pepper and creamy butter, can be served in half as an accompaniment, or whole as a supper dish, alongside a lettuce and watercress salad.
Ingredients
3 pink-skinned sweet potatoes, about 1 pound each
6 tablespoons butter, sliced
black, white and cayenne peppers
sea salt
1/4 cup chopped cashews
Directions
Preheat the oven to 400 degrees.
Scrub the potatoes with cold water and immediately rub salt into the skins so it adheres well; prick with fork.
Place the potatoes on the oven's middle shelf and bake for about an hour or until a knife easily pierces through potato.
Slice the potatoes in half lengthwise, and make close crisscross cuts into the flesh of each half. Spread the potatoes with the slices of butter and the seasonings, making sure to get both ingredients in the crisscross cuts.
Sprinkle with chopped cashews. Serve immediately.