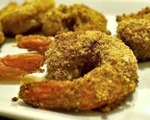 Prep: 10 min
Cook Time: 10 min
Total: 20 min
Serving: 12 pieces of shrimp
Shrimp is one of the most versatile kind of seafood out there. You can serve plain with cocktail sauce, bread in cornmeal and deep fry it and even sauté it with a lemon butter sauce for a scampi. One of the easiest and more flavorful ways to prepare shrimp is to bread in a zesty breadcrumb mixture and bake! This Cajun baked shrimp has the crunch you get from frying, without all the extra fat. The Cajun seasoning also gives it a kick!
Ingredients
1 dozen fresh shrimp
1/4 cup of breadcrumbs
1 egg, beaten
1 tablespoon Cajun seasoning
1/8 teaspoon sea salt
1/8 teaspoon pepper
2 tablespoons all-purpose flour
Cooking spray
Directions
Preheat oven to 425 degrees F. Coat a cookie sheet with cooking spray.
Place flour in a shallow bowl. Mix breadcrumbs, Cajun mixture, salt and pepper in another shallow bowl. Dip shrimp in flour, shaking excess off. Then dip in egg and roll in Cajun breadcrumb mixture. Place on baking sheet and repeat with rest of the shrimp.
Bake for 10-15 minutes or until shrimp is browned and crispy!