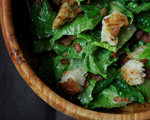 Prep: 15 min
Cook Time: 8 min
Total: 23 min
Serving: 1 Serving
Caesar salad is even tastier when pancetta, an Italian type of dry cured meat, is used instead of bacon.
Ingredients
juice of 1/2 a lime
1 yolk from a lightly boiled egg
2 Garlic cloves crushed fine
3 Anchovy fillets, chopped small
Black pepper
5 tablespoons extra virgin olive oil
4 tablespoons finely grated Parmigiano
Sea salt
1 Romaine lettuce head, cleaned and torn into bite-sized pieces
3 thick slices pancetta, cooked till crispy
1 slice sourdough bread, torn into 3/4-inch chunks
1 Garlic clove, peeled, kept whole
Directions
Put the pancetta in a small skillet and fry over medium heat until crisp. Remove from pan and cut into pieces once cool enough to handle.
Place the bread chunks into the same skillet, toast over medium heat and then rub with the piece of whole garlic.
Put the lime juice into a large salad bowl with the egg yolk and beat to combine.
Add the garlic to the bowl, along with the anchovies and a few grinds of fresh black pepper. Continue to beat the mixture until blended.
Slowly pour in the oil, whisking vigorously to combine, and then add the Parmigiano and a few pinches of salt.
Place the lettuce into the bowl and toss to coat. Add the pancetta and the croutons and toss the salad once more.