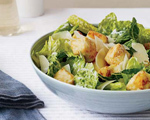 Prep: 15 min
Cook Time: 8 min
Total: 23 min
Serving: 4 Servings
Pan-frying cubes of tofu creates a crispy, crouton-like addition to this classic Caesar salad. Serve accompanied by a glass or Pinot Blanc or Merlot Rosé.
Ingredients
6 ounces soft silken tofu, drained
1-1/2 tablespoons extra-virgin olive oil
1-1/2 tablespoons fresh lemon juice
1-1/2 tablespoons freshly grated Parmigiano-Reggiano cheese, plus more for serving
1 oil-packed anchovy fillet, drained
1 small garlic clove
1/2 teaspoon Worcestershire sauce
1/2 teaspoon Dijon mustard
Salt and freshly ground pepper
1 14-ounce package firm tofu, drained, dried and cut into 3/4-inch cubes
Vegetable oil, for frying
1/2 cup cornstarch
2 romaine hearts, torn into bite-size pieces
Directions
Place the silken tofu, olive oil, lemon juice, 1-1/2 tablespoons Parmigiano, anchovy, garlic, Worcestershire, mustard and a few pinches of salt and pepper into a blender and process until smooth.
Put the tofu into a bowl, add the cornstarch and toss to coat.
Place 1/4-inch of vegetable oil into a large sauté pan over medium-high heat. Once the oil begins to shimmer, add the tofu and fry for 8 minutes until crisp, turning once halfway through the cooking time. Remove the pan from the heat and then sprinkle the tofu with salt.
Place the romaine into a salad bowl with the fried tofu and toss the mixture with the dressing to coat. Served topped with some additional cheese.