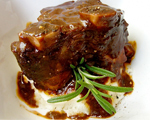 Prep: 12 hr
Cook Time: 2 hr 45 min
Total: 14 hr 45 min
Serving: 8 Servings
Short ribs are a popular tender cut of beef, perfect for slow-cooked meals, barbecuing and braising. Enjoy these short ribs marinated in herbs and braised in a cabernet sauce.
Ingredients
9 pounds beef short ribs
2 tablespoons chopped fresh rosemary
2 tablespoons chopped fresh thyme
1 tablespoon coarse salt
1 tablespoon freshly ground black pepper
1/4 cup olive oil
2 750-ml bottles Cabernet Sauvignon
2 tablespoons (1/4 stick) butter, room temperature
2 teaspoons all purpose flour
Directions
Place the ribs in a baking dish and sprinkle both sides with the rosemary, thyme, salt and pepper. Cover and refrigerate the ribs for at least 12 hours, removing from the refrigerator one hour before cooking to reach room temperature.
Preheat the oven to 375 degrees.
In a medium-sized sauté pan, heat the oil over medium-high heat until hot but not smoking. In batches, brown ribs on all sides for about 8 minutes per batch. Make sure to add more oil if needed.
Remove ribs from the pan and pour in the wine whisking vigorously to release any browned bits from the bottom of the pan. Add the ribs and bring mixture to a simmer. Cook, covered, for about 2 hours until meat can be cut with a fork.
Remove ribs from the pan and boil for 20 minutes until the sauce is reduced.
In a small bowl, combine the 2 tablespoons of butter with the flour and blend well. Whisk the butter mixture into the sauce and heat for 3 minutes. Serve the ribs over mashed potatoes and top with the wine sauce.