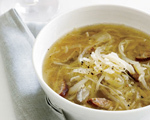 Prep: 10 min
Cook Time: 25 min
Total: 35 min
Serving: 4 Servings
Use smoked and seasoned Polish kielbasa for this cabbage and rice soup. Its piquant flavors will add warm and spicy flavor to this hearty and simple meal. Serve with a bottle American Riesling or a Pinot Grigio.
Ingredients
7-3/4 cups low-sodium chicken broth
1 cup long-grain white rice, such as basmati or jasmine
1 tablespoon vegetable oil
3/4 pound kielbasa, halved lengthwise and thinly sliced
1 onion, halved and thinly sliced
1/2 medium green cabbage, cored and finely shredded
Sea salt and freshly ground pepper
Directions
Cook the rice according to package directions but replace half of the required water with chicken broth.
In the meantime, place the oil in a soup pot over medium-high heat and brown the kielbasa for 5 minutes. Place the onion and the cabbage into the pot and cook the mixture for 6 minutes, then stir in the remaining broth.
Bring the mixture to a simmer, sprinkle with a few pinches of salt and pepper and then cook for 10 minutes. Stir in the cooked rice and then serve hot.