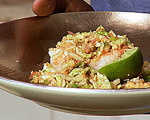 Prep: 10 min
Cook Time: 5 min
Total: 15 min
Serving: 4 Servings
Combining cabbage with roasted peanuts, chile, sesame seeds and grapefruit creates an incredibly fresh and crunchy salad with multi-layered flavor.
Ingredients
1/2 cup dry-roasted peanuts
1 (2-inch) piece of ginger
juice of 2 limes
2 canned sardines, chopped
1 garlic clove, minced
1 green chili, seeds and ribs removed
1/4 cup soy sauce
1/4 cup peanut oil
1-1/2 teaspoons sesame oil
3 scallions, trimmed and chopped
1 tablespoon sesame seeds
1/2 head Napa cabbage, shredded (about 8 cups)
2 grapefruits, peeled and whole pith removed and segments sliced from membranes, juice reserved
Directions
Place the peanuts and the ginger in a large sauté pan over high heat. Sauté the mixture, stirring frequently, for 40 seconds and then stir in the lime juice, sardines, garlic, chilies, soy sauce, peanut oil, and sesame oil. Bring the mixture to a simmer and then transfer to a bowl.
Place the shredded cabbage, grapefruit segments, reserved juice, scallions and sesame seeds into the same bowl with the peanut mixture and toss well to coat. Serve immediately.