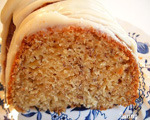 Prep: 2 hr 25 min
Cook Time: 30 min
Total: 2 hr 55 min
Serving: 8
Perfect for breakfast, Buttery Glazed Cinnamon Coffeecake will get sleepy heads out of bed.
Ingredients
1/4 cup warm water
1 package dry yeast
1 1/4 cup boiling water
1 cup raisins
1/2 cup sugar
1/4 cup margarine
1 1/2 teaspoons salt
2 eggs, well beaten
4 cups flour, sifted
Glaze: 1/4 cup butter, melted
1/2 cup sugar
1 teaspoon cinnamon
Directions
Dissolve yeast in warm water. Combine boiling water, raisins, sugar, margarine and salt. Cool to lukewarm then add yeast and eggs. Beat thoroughly. Beat in flour gradually. Continue beating until dough is smooth. Dough will be moist.
Cover bowl; let rise until double in bulk, about 1 hour. Divide in 1/2 and spread in 2, 9 inch square cake pans.
For Glaze: Dribble melted butter over top, then sprinkle with sugar and cinnamon. Let rise until double, about 1 hour. Bake at 350 degrees F for 30 minutes.