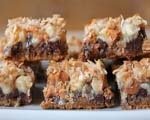 Prep: 15 min
Cook Time: 25 min
Total: 40 min
Serving: 24 People
These easy-to-make cookie bars taste delicious! Ideal for bringing to potlucks, large family gatherings or even just to have as an afternoon snack.
Ingredients
1 cup butterscotch chips
1/4 cup butter
2 eggs
1/2 teaspoon vanilla
3/4 cup flour
1 teaspoon baking powder
3/4 teaspoon salt
1 cup brown sugar
1 cup chocolate chips
1/2 cup chopped nuts
1/2 cup raisins
Directions
Melt butterscotch chips and butter in a glass bowl in the microwave for 3 minutes, stirring frequently. Allow to cool for 1-2 minutes.
Cream butterscotch mixture, eggs and vanilla.
In a separate bowl, combine flour, baking powder and salt.
Blend flour combination into butterscotch mixture; mix well.
Fold in brown sugar, chocolate chips, chopped nuts and raisins.
Pour batter evenly into a greased 9x13 baking dish.
Bake at 350 degrees for 25 minutes. Cut into bars while still warm.