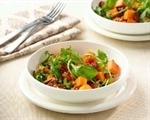 Prep: 20 min
Cook Time: 45 min
Total: 1 hr 5 min
Serving: 4 servings
Sweet and crunchy butternut squash side dish with pecans and Kellogg's All-Bran® cereal
Ingredients
30 millilitres (2 tablespoons) maple syrup
Olive oil for drizzling
250 millilitres (1 cup) arugula
75 millilitres (1/3 cup) chopped pecans
125 millilitres (1/2 cup) All-Bran Buds® cereal
750 millilitres (3 cups) Mann's Butternut Squash cubes
Directions
Preheat the oven to 150 degrees C. (300 degrees F.).
Place the squash cubes into a roasting pan; drizzle maple syrup and olive oil over the squash. Roast in the oven for about 30 to 45 minutes or until tender.
Once out of the oven, let squash sit for 15 minutes.
Remove the squash from the roasting pan and transfer into a bowl.
Scatter the pecans, crumble the All-Bran Buds® cereal, and sprinkle the arugula on top of squash in the bowl. Toss everything together gently and serve.