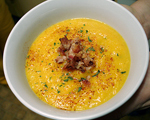 Prep: 15 min
Cook Time: 25 min
Total: 40 min
Serving: 6 Servings
There is nothing like a bowl of butternut squash soup on a crisp, fall day. This recipe combines the sweet taste of the squash with the smoky taste of bacon.
Ingredients
5 bacon slices
5 large garlic cloves, chopped
1 teaspoon caraway seeds
2 pounds butternut squash, peeled, seeded, and chopped
1/2 pounds carrots, chopped
1-1/2 apples, peeled, cored, and chopped
3 thyme sprigs
2 bay leaves
3-1/2 cups chicken broth
2 cups water
cider vinegar to taste
Directions
Cook the bacon in a large soup-pot over medium heat until crisp; set aside to cool and then roughly chop into small pieces.
Put the garlic and caraway seeds into the bacon fat and cook for approximately 1 minute until the garlic is fragrant.
Add the squash, carrots, apple, thyme, bay leaves, broth, water and a pinch of salt and pepper and boil, uncovered, for 20 minutes.
Remove the bay leaves and thyme from the soup and puree with a handheld blender.
Check the seasoning and add salt, pepper and vinegar to taste. Ladle into bowls and top with the bacon.