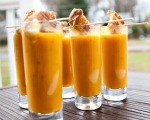 Prep: 15 min
Cook Time: 20 min
Total: 35 min
Serving: 10-12 People
Soup shooters are one of the most popular appetizers to serve at weddings, cocktail parties and galas, simply for the beautiful presentation and easy serve! For a creamy, savory and unique shooter, try these delicious butternut squash shooters with homemade grilled brie croutons. The creaminess of the soup with the crunchy exterior of the grilled cheese make for a truly remarkable taste. Serve luke warm.
Ingredients
2 tablespoons butter
1 small onion, finely chopped
1 stalk celery, finely chopped
2 russet potatoes, cubed and peeled
1 medium carrot, finely chopped
10 ounces frozen butternut squash, defrosted
1 (32-ounce) container chicken stock
1/4 teaspoon salt and pepper
2 pieces whole wheat bread
1 tablespoon butter
4 ounces brie
Directions
Melt two tablespoons of butter in a pot. Add celery, onion, potatoes, carrot and frozen squash, cooking until browned and soft, about six minutes.
Pour the chicken stock in pot to completely cover vegetables. Bring to a boil, then reduce heat, cover and simmer for about 30 minutes.
Transfer the soup to a blender and puree.
While soup is cooling, butter the bread with remaining one tablespoon of butter. Add brie to one slice and then place butter side down into a pan. Carefully place other slice of bread on top. Grill until cheese is melty and bread is browned, about three minutes.
Pour soup into 2-ounce vodka shooters. Cut the grilled cheese into small cubes and place over the shooters with a large toothpick.