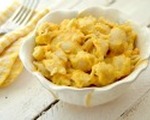 Prep: 25 min
Cook Time: 10 min
Total: 35 min
Serving: Serves about 6 people
Macaroni and cheese is one of those recipes that is an instant kid and family favorite, but isn't exactly the healthiest of options, especially when served out of a blue box. Skip the powdered cheese and add in a serving of vegetables at the same time with this homemade butternut squash mac n' cheese! If you're worried about your kids, don't worry, they'll love it! All you taste is the creamy cheese and the buttery aftertaste of the squash. A healthy option even your pickiest eaters will love!
Ingredients
2-1/2 cups diced butternut squash
1 tablespoon olive oil
10 ounces elbow or shell noodles
2 tablespoons skim milk
2 tablespoons butter
2 tablespoons all-purpose flour
Dash of salt and pepper
1/2 cup milk
1/3 cup light cream
1-1/4 cup part skim shredded cheddar cheese
Directions
Preheat oven to 400 degrees F. Grease a baking sheet with nonstick cooking spray. Place the butternut squash cubes on the baking sheet. Drizzle with olive oil. Roast for 15 minutes. Then, flip the squash cubes over with a spatula and roast for another 10 minutes, or until soft.
Place the squash and 2 tablespoons of milk into the body of a food processor. Pulse until the mixture is smooth. Sprinkle with salt and pepper.
Boil the pasta according to the package instructions, rinse and set aside.
In a large 3-quart pan, heat the butter until melted over medium-high heat. Add the flour and whisk until the mixture is thick, about 2 minutes. Stir in the milk, cream and butternut squash puree. Heat until the sauce is thick. Sprinkle with salt and pepper.
Remove from the heat and stir in the cheese. Immediately add the pasta to the sauce and let it cover the shells completely. Serve warm and enjoy!