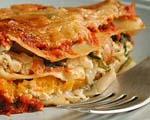 Prep: –
Cook Time: –
Total: –
Serving: 8 Servings
This butternut squash lasagna recipe is a healthy and more interesting alternative to the fatty classic Italian preparation.
Ingredients
1 large butternut squash, peeled, halved, seeded, cut into chunks
1 tablespoons extra virgin olive oil
1 teaspoon kosher salt
1/2 teaspoon black pepper
1 pound lasagna noodles
1/4 cup plus unsalted butter
1/4 cup all-purpose flour
2 cups low-fat milk, warmed
2 cups part-skim ricotta cheese
1/4 teaspoon ground cinnamon
1/4 teaspoon ground nutmeg
1 cup grated Parmesan cheese
1 cup mozzarella cheese, shredded
Directions
Preheat oven to 400 degrees F. Combine squash with 1 tablespoon olive oil, salt, and black pepper and spread out on an aluminum foil covered baking sheet. Roast squash for 40 to 45 minutes or until fork tender.
Meanwhile, cook lasagna noodles in boiling water until tender. Drain noodles and reserve.
Combine butter with flour in a skillet and heat, whisking for 2 minutes. Whisk in milk, bring mixture to a boil and then reduce heat and simmer for 5 to 7 minutes or until thickened.
When squash is finished cooking combine squash with 1 cup ricotta cheese, cinnamon, and nutmeg in a blender or food processor. Blend until squash is smooth.
When ready to cook, spoon about 1/4 of the sauce onto the bottom of a 9 x 13-inch casserole dish then top with 1/4 of the lasagna noodles, 1/4 of the squash, 1/4 of the ricotta cheese, 1/4 of the Parmesan cheese, and 1/4 of the mozzarella cheese. Continue layering ending with mozzarella cheese until all ingredients are finished.
Cover lasagna with aluminum foil and bake for 55 to 65 minutes or until heated through. Remove lasagna from oven and let rest for 15 to 20 minutes.