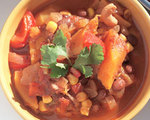 Prep: 20 min
Cook Time: 55 min
Total: 1 hr 15 min
Serving: 8
This chili recipe incorporates one of fall's favorite vegetables--butternut squash. Warming you up from the instead out, it makes a great apres-ski meal or a hearty lunch.
Ingredients
2 medium butternut squash, seeded and cut into 1-inch cubes
4 tablespoons vegetable oil
4 medium yellow onions, coarsely chopped
2 medium red bell peppers, seeded and coarsely chopped
1/2 medium jalapeno pepper, seeded and finely chopped
4 garlic cloves, minced
2 cups canned vegetable broth
2 (14 1/2-ounce) cans diced tomatoes
2 (15 1/4-ounce) cans beans, kidney and black, rinsed and drained
4 tablespoons chili powder
4 teaspoons ground cumin
2 teaspoons dried oregano
1/2 teaspoon curry powder
2 teaspoons salt
2 cups fresh corn
1 cup cashews, coarsely chopped
Directions
In a large stockpot over medium heat, heat the oil. Add the onions, red peppers and jalapeno and saute until softened,about 5-8 minutes, stirring frequently. Add the garlic and cook for 1 minute, stirring constantly.
Add the squash, broth, tomatoes, beans, chili powder, cumin, oregano, curry powder and salt and stir to combine. Bring to a boil. Once boiling, reduce the heat and cover. Simmer for 30 minutes, stirring occasionally.
Add the corn and cook for 5 minutes, or until the vegetables are tender, stirring occasionally. Serve hot and garnish each serving with chopped cashews if desired.