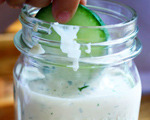 Prep: 1 hr 5 min
Cook Time: –
Total: 1 hr 5 min
Serving: Makes 4 Servings
This salad dressing takes minutes to prepare but needs to be chilled in the refrigerator for at least 1 hour to allow the flavors of tarragon, freshly ground black pepper, apple cider vinegar and buttermilk to blend. Excellent tossed with a butter leaf salad with crispy bacon or pancetta.
Ingredients
1/4 cup buttermilk
1/4 cup sour cream
1/4 cup mayonnaise
1-1/2 tablespoons apple cider vinegar
1 teaspoon freshly ground black pepper
1 teaspoon sea salt
1 tablespoon freshly chopped tarragon
Directions
Place all of the ingredients into a glass bowl and whisk vigorously until completely blended. Cover the bowl and place in the refrigerator for at least 1 hour to chill prior to serving.