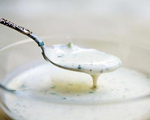 Prep: 10 min
Cook Time: 5 min
Total: 15 min
Serving: 6 Servings
This classic cool and creamy salad dressing has the pleasant tang of buttermilk and the sharp bite of blue cheese. Enjoy it tossed with your favorite salad or as a dip for a mixed vegetable platter.
Ingredients
1 clove garlic, crushed
Sea alt
2 tablespoons mayonnaise
3 tablespoons buttermilk
1-1/2 tablespoons red wine vinegar
1 teaspoon Dijon mustard
Cayenne pepper
1/4 pound blue cheese, crumbled 3/4 cup
Directions
Place the garlic in a small bowl, sprinkle with a pinch of salt and then mash into a paste. Add the mayonnaise, buttermilk, vinegar and mustard and whisk the mixture vigorously to combine. Slowly whisk in the oil and then stir in the blue cheese.
Season the dressing to taste with salt and pepper and then serve immediately.