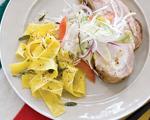 Prep: 10 min
Cook Time: 12 min
Total: 22 min
Serving: 10 Servings
Serve these buttery noodles as a delicious and attractive side to roast chicken or pork tenderloin, and garnish with freshly grated Parmesan cheese and a few turns of black pepper.
Ingredients
1 stick unsalted butter, cut into tablespoons, at room temperature
1/2 cup thinly sliced sage leaves
2 garlic cloves, minced
2 teaspoons chopped rosemary
2-1/2 cups chicken stock
1 pound wide egg noodles
1/2 cup plus 2 tablespoons freshly grated Parmesan cheese
Salt and freshly ground black pepper
Directions
Cook the noodles 'al dente' according to package direction, drain and then place back into the pot.
In the meantime, melt 4 tablespoons of butter in a sauté pan over medium heat; add the sage, sauté until crisp and then remove from the pan and set aside.
Add an additional 1 tablespoon of butter to the pan and then cook the garlic for 1 minute. Pour in the stock and boil the mixture for 8 minutes.
Top the cooked pasta with the stock mixture, remaining butter, 1/2 cup of the cheese and a few pinches of salt and pepper. Toss gently to combine and then serve immediately topped with the remaining cheese and garnished with the sautéed sage.