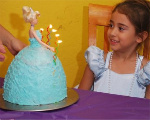 Prep: 30 min
Cook Time: 30 min
Total: 1 hr
Serving: 7 1/2 cups
Great buttercream frosting for icing cookies, cupcakes or homemade cakes. Holds its shape well for piping and decorating.
Ingredients
1 1/2 cups shortening
1/2 cup of unsalted butter softened
8 cups confectioners sugar
1/2 teaspoon salt
2 teaspoons vanilla extract
3/4 cup heavy whipping cream
Directions
Cream the shortening and softened butter until well mixed and fluffy.
Slowly add confectioners sugar until well blended.
Add salt, vanilla and whipping cream.
Beat on low speed until moist, adding up to an additional 1/4 cup of cream if needed.
Add food dye if desired.
Refrigerate or freeze excess.