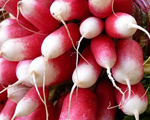 Prep: 10 min
Cook Time: 8 min
Total: 18 min
Serving: 4 Servings
A great accompaniment to roast chicken and fresh bass, these buttery sautéed radishes sprinkled with sea salt and freshly ground black pepper are drizzled with raspberry wine vinegar and tossed with fresh tarragon.
Ingredients
1 bunch French breakfast radishes (about 3/4 lb.), greens and bottoms discarded, halved
3 tablespoons unsalted butter
Salt and freshly ground pepper to taste
3 dashes raspberry wine vinegar
1/4 cup vegetable stock
1 teaspoon fresh tarragon, torn into pieces
Directions
Place 2 tablespoons of the butter into a large sauté pan over low-medium heat.
Once the butter has melted and begins to foam, add the radishes and sauté for 5 minutes then drizzle with the raspberry wine vinegar and cook for an additional minute.
Pour in the vegetable stock and the remaining butter and cook for 2 minutes, stirring frequently.
Remove the radishes from the heat and top with the tarragon and a few pinches of salt and pepper. Toss to combine and serve.