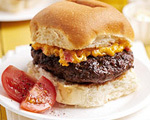 Prep: 15 min
Cook Time: 11 min
Total: 26 min
Serving: 6 Servings
The flavor of these burgers is accentuated with an extra-sharp cheddar cheese and pimento slather.
Ingredients
1 pound ground sirloin
1 pound ground chuck
1-1/2 salt
Olive oil
6 hamburger buns
1 shallot, grated
1 8-ounce block extra sharp cheddar cheese, grated
1/ 2 cup regular mayonnaise
1/2 4-ounce jar pimientos
Directions
Prepare a grill on medium-high heat.
Place the sirloin and the chuck into a large bowl and sprinkle with the salt and a few grinds of freshly grated black pepper.
Form the beef into 6 evenly-sized patties and then brush with olive oil on both sides.
Place on the grill for 11 minutes, turning once halfway through the cooking time.
In the meantime, place the cheese, shallot, mayonnaise and pimentos into a bowl and stir well to blend.
Sprinkle the mixture with a pinch of salt and a few grinds of pepper and mix to blend.
Top each bun with a grilled burger and then slather with the pimento cheese mixture. Serve immediately.