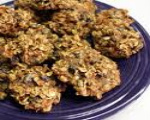 Prep: 10 min
Cook Time: 12 min
Total: 22 min
Serving: 4 dozen
Yummy oatmeal, raisin and -gasp- carrot cookies that kids will eat right up.
Ingredients
3/4 cup margarine, softened
1 3/4 cups flour
1/2 cup packed light brown sugar
1/4 cup honey
1 egg
1 teaspoon baking powder
1/2 teaspoon ground cinnamon
3/4 teaspoons baking soda
1 teaspoon vanilla extract
2 cups rolled oats
1 cup finely shredded carrot
1/2 cup raisins
Directions
Preheat the oven to 375 degrees Fahrenheit.
Beat the margarine, flour, sugar, honey, egg, baking powder, cinnamon, baking soda and vanilla until well combined.
Add in the remaining ingredients.
Drop by the spoonful onto baking sheets. Bake until golden brown, about 10-12 minutes.