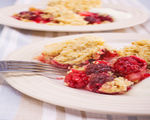 Prep: 30 min
Cook Time: 2 hr
Total: 2 hr 30 min
Serving: 6
Brought to you from the 50+ Friends Club Cookbook.
Ingredients
1 c. all-purpose four
1/2 c. sugar
1 1/2 tsp. baking powder
1/2 tsp. ground cinnamon
1/2 tsp. salt
2 lg. eggs, fork-beaten
2 tbsp. cooking oil
2 tbsp. milk
1 tsp. vanilla
1 c. fresh or frozen raspberries
1 c. fresh or frozen blueberries
1 c. sliced fresh or whole frozen, sliced strawberries
3/4 c. sugar
1/2 c. water
Directions
Stir first 5 ingredients together in bowl.
Add eggs, cooking oil, milk and vanilla.
Mix well.
Turn into ungreased 3½ quart slow cooker.
Measure remaining 5 ingredients into saucepan.
Heat, stirring occasionally, until boiling.
Pour over batter in slow cooker.
Place 5 paper towels between top of slow cooker and lid.
Cook on high for 1 3/4 to 2 hours.