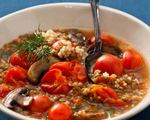 Prep: 10 min
Cook Time: 15 min
Total: 25 min
Serving: 4 Servings
This hearty and satisfying soup is packed with fiber, iron and nutrients. Serve with a few slices of thick peasant bread and a glass of Spanish Sherry or white Côtes-du-Rhône.
Ingredients
1 cup bulgur
1 tablespoon vegetable oil
8 ounces sliced mushrooms
1 can lentil soup (18- to 19-ounces)
1 can cherry or diced tomatoes (14 ounces), drained well
3 tablespoons fresh dill, or to taste
1-2 teaspoons fresh lemon juice
1 garlic clove, forced through a press
Sea salt and freshly ground pepper
Directions
Prepare the bulgur according to package directions and then set aside.
In the meantime, place the oil in a medium-sized sauté pan over medium heat. Once the oil begins to shimmer, add the mushrooms and a few pinches of salt and sauté for 4 minutes stirring occasionally.
Stir in the soup and tomatoes and cook for 4 minutes, then add the cooked bulgur, dill, lemon juice and garlic. Cook until heated through and then serve ladled into bowls.