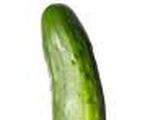 Prep: 45 min
Cook Time: –
Total: 45 min
Serving: 4-6
With the goodness of yogurt and flavorful garlic, this Bulgarian Cucumber Soup is a unique and delicious alternative.
Ingredients
1 cucumber, seedless
pinch of salt
2 garlic cloves
3 tablespoon olive oil
4 ounces walnuts
24 ounces yogurt, plain
3/4 cup sour cream
freshly ground black pepper
2 tablespoon fresh dill, minced
Directions
Peel cucumber and dice. Stir in pinch of salt. Let sit in refrigerator.
Place walnuts, garlic, oil and yogurt in blender and mix well. Add sour cream and a generous amount of black pepper.
Drain excess liquid from cucumbers and mix with yogurt mixture. Blend well. Serve cold in individual bowls. Add a few walnuts on top and sprinkle with fresh dill.