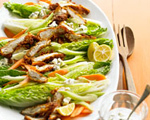 Prep: 10 min
Cook Time: 15 min
Total: 25 min
Serving: 4 Servings
Adding boneless buffalo-style wings to this romaine salad with blue cheese dressing makes healthier Sunday-night football fare than traditional chips, wings and dip.
Ingredients
1 25.5-ounce package frozen buffalo-style boneless chicken wings
2 hearts of romaine lettuce, halved or quartered
1-1/2 cups sliced celery and carrots
1/2 cup light mayonnaise
1/4 cup crumbled blue cheese
1/4 teaspoon freshly ground black pepper
Juice from 1/2 lemon
Directions
Prepare the chicken wings according to package directions.
In the meantime, place the romaine lettuce onto a serving platter and then top with the sliced celery and carrots.
Put the mayonnaise, blue cheese, juice from 1/2 a lemon and pepper into a small bowl and mix until thoroughly blended.
Once the chicken is cool enough to handle cut into slices and place over the carrots and celery. Drizzle on the blue cheese dressing and serve.