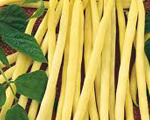 Prep: 5 min
Cook Time: 5 min
Total: 10 min
Serving: 1 Serving
Buerre de Rocquencourt beans, considered the 'aristocrat' of wax beans, are golden yellow and have a delicious, buttery taste.
Ingredients
1/2 pound Buerre de Rocquencourt , trimmed
1 tablespoon lemon cress, minced
1 tablespoon clarified butter
Sea salt
Directions
Place the beans into a steam basket over a saucepan of boiling water, and steam for 4 minutes or until tender but not soft. Transfer the beans to a serving platter and top with 1/2 of the lemon cress.
In the meantime, place the butter in a sauté pan over low heat and then add the remaining lemon cress. Stir the mixture to combine and then drizzle over the beans. Serve immediately sprinkled with a few pinches of sea salt.