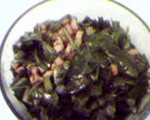 Prep: 10 min
Cook Time: 40 min
Total: 50 min
Serving: 10 Servings
For something different, try making collard greens with a can of Budweiser!
Ingredients
1 bunch collard greens, rinsed, trimmed and chopped
3 slices bacon
1 onion, diced
1 (6 ounce) smoked pork chop, diced
1/2 tsp ground black pepper
1 (14.5 ounce) can chicken broth
1 (12 fluid ounce) can Budweiser beer
1/2 tsp garlic
Salt and pepper, to taste
Directions
Heat a large pot over medium-high heat. Add bacon and fry until crispy. Remove bacon and drain off excess fat.
Add the onion and garlic; cook while stirring until slightly browned. Add the pork chop and season with pepper cooking until pork is browned.
Add the collard greens and pour in the chicken broth and beer. Cook over medium-low heat for 30 to 40 minutes, until collards are tender and begin to wilt.
Crumble bacon on top and season with salt and pepper if necessary.