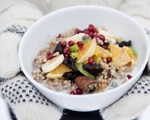 Prep: 5 min
Cook Time: 20 min
Total: 25 min
Serving: 4 Servings
This buckwheat porridge is delicious served with fresh or dried fruit, or topped with some warm milk and honey.
Ingredients
1 cup whole buckwheat, rinsed
2 cups water
2/3 cup dried fruit
salt
3 cinnamon sticks
1 teaspoon cardamom seeds
1 vanilla stick
Directions
Place the rinsed buckwheat, water, dried fruit, salt, cinnamon sticks, cardamom seeds and vanilla stick into a saucepan and bring to a boil. Lower the heat to low and simmer the mixture for 20 minutes, stirring occasionally to prevent sticking.
Remove and discard the cinnamon and vanilla stick from the mixture and serve immediately.