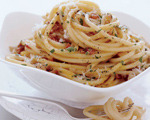 Prep: 10 min
Cook Time: 12 min
Total: 22 min
Serving: 8
Use either bucatini or perciatelli pasta for this Italian-inspired dish. Both are thick, spaghetti-like pastas, with a hole running through the center, which holds thick sauces very well.
Ingredients
8 ounces bucatini or perciatelli
1 tablespoon extra virgin olive oil
4 ounces pancetta, cut into 1/4-inch dice
1 shallot, minced
1 clove garlic, minced
1 cup heavy cream
2 tablespoons freshly grated Parmigiano-Reggiano cheese, plus more for serving
4 large egg yolks
Salt and freshly ground pepper
2 tablespoons coarsely chopped parsley
Directions
Cook the pasta al dente according to package directions and drain (reserving three tablespoons of the pasta water).
In the meantime, place the oil in a large sauté pan over medium heat. Once it begins to simmer, add the pancetta and cook for seven minutes and then add the shallot and the garlic, cooking for an additional three minutes.
Place the cooked pasta into the pan, toss to coat and cook for one minute. Take the pan off the heat and then add the reserved pasta water as well as two tablespoons of cheese, the egg yolks and a few generous pinches of salt and pepper. Toss the pasta well to coat and then serve immediately, topped with additional cheese.