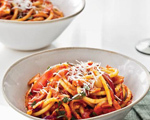 Prep: 10 min
Cook Time: 25 min
Total: 35 min
Serving: 5 Servings
This classic pasta dish, named after the tiny town of Amatrice in Italy, is one of the most celebrated in Italian cuisine. Toss this spicy tomato-based sauce made with pancetta, garlic and red pepper with bucatini; thick spaghetti-like pasta with a hole running through the center.
Ingredients
1/2 pound thinly sliced pancetta, coarsely chopped
1 red onion, thinly sliced
3 cloves garlic, thinly sliced
1-1/2 teaspoon) crushed red pepper
12 ounces prepared tomato sauce
Sea salt
1 pound bucatini
1/2 cup flat-leaf parsley leaves
Grated Pecorino Romano cheese, for serving
Directions
Place the pancetta in a large sauté pan over medium heat and cook for 6 minutes, stirring frequently. Remove the pancetta from the pan and then add the onion, garlic and crushed red pepper. Cook the mixture over medium-high heat for 5 minutes and then stir in the tomato sauce, a few pinches of salt and pepper and the cooked pancetta. Simmer the mixture for 10 minutes.
In the meantime, prepare the pasta according to package directions, drain (reserving 1/2 cup of the pasta water) and then place in the pan with the tomato sauce. Add the reserved liquid and the parsley, and then toss the pasta to coat. Serve the pasta immediately garnished with some grated Pecorino Romano cheese.