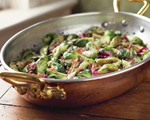 Prep: 20 min
Cook Time: 18 min
Total: 38 min
Serving: Serves 6
Brussels sprouts are at their peak in autumn, which is why they are a classic dish for a Thanksgiving feast. Try this dish that combines the sprouts with crispy Pancetta and vibrant radicchio.
Ingredients
1-1/2 pounds brussels sprouts, cleaned, stemmed and trimmed
6 ounces pancetta, diced
3 tablespoons olive oil
1 head radicchio, about 8 ounces trimmed and cut into 1/4-inch-thick slices
1-1/2 tablespoons finely chopped fresh marjoram
Salt, to taste
1/4 cup chicken broth, plus more as needed
Freshly ground pepper, to taste
Directions
Shred the brussels sprouts using a food processor and set aside.
In a large sauté pan, cook the pancetta over medium-high heat for 7 minutes, and then set aside.
In another sauté pan, heat the olive oil over medium heat and sauté the sprouts for 3 minutes. Add the radicchio, marjoram and salt and continue to sauté for 3 minutes, and then pour in the chicken broth.
Cook the brussels sprouts mixture for 5 more minutes, adding extra stock if needed. Stir in the pancetta and sprinkle the mixture with salt and pepper. Empty the Brussels sprouts into a serving bowl and serve immediately.