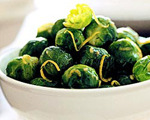 Prep: 10 min
Cook Time: 15 min
Total: 25 min
Serving: 6 Servings
Tender brussels sprouts are tossed in a fragrant lemon sauce to create this delicious side dish that pairs well with broiled poultry of beef.
Photo originally appeared on www.kitchendaily.com
Ingredients
3 cups brussels sprouts (12-ounces)
3/4 cup chicken broth and 2 tablespoons chicken broth, divided
1 teaspoon butter
1 clove garlic, minced
1-1/2 teaspoons cornstarch
1/2 teaspoon finely shredded lemon peel
1 tablespoon lemon juice
1/8 teaspoon pepper
2 teaspoons snipped fresh dill weed
Directions
Place the brussels sprouts, the 3/4 cup broth, butter, and garlic into a pan and bring to a boil. Once boiling, reduce the heat to medium-low and simmer the sprouts, covered, for 10 minutes. Carefully transfer the sprouts with a slotted spoon to a serving bowl and set aside.
Place the remaining chicken broth into a small bowl. Add the cornstarch, lemon peel, lemon juice, and pepper and whisk well to combine. Slowly whisk the mixture into the hot liquid in the saucepan and cook until thick, about 4 minutes; stir in the dill.
Pour the sauce over the brussels sprouts and gently toss to combine. Serve immediately.