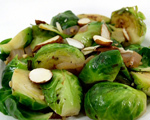 Prep: 10 min
Cook Time: 8 min
Total: 18 min
Serving: 6 Servings
Brussels Sprouts are sautéed with fresh basil for this flavorful and aromatic vegetarian side dish recipe. Top the dish with coarsely chopped toasted almonds for a hint of nuttiness and some added crunchy texture.
Ingredients
1-1/2 tablespoon olive oil
3/4 cup onions, finely chopped (1-1/2 medium)
1 small red bell pepper, finely chopped
3/4 cup vegetable or chicken broth
1 package (16 ounces) frozen cooked Brussels sprouts or 2-1/2 cups fresh cooked
1/4 cup fresh basil, chopped
2 tablespoons fresh lemon juice
1 teaspoon lemon peel, grated
Sea salt and freshly ground pepper
1/4 cup toasted almonds, coarsely chopped
Directions
Place the oil into a large sauté pan over medium heat. Once the oil is hot, add the onions, bell pepper, and the broth, and cook the mixture for 4 minutes, stirring frequently.
Add the Brussels sprouts, basil, lemon juice and peel to the pan, along with a few pinches of salt and pepper to taste. Toss the mixture well to combine and cook for 4 additional minutes. Serve warm.