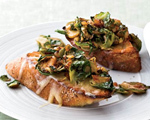 Prep: 10 min
Cook Time: 20 min
Total: 30 min
Serving: 4 Servings
Thick slices of French bread are topped with extra-sharp cheddar cheese and mounds of sautéed brussels sprouts and onions. Serve these delicious appetizers with a bottle of Côtes de Provence.
Ingredients
1 pound brussels sprouts, thinly sliced lengthwise
2 tablespoons extra-virgin olive oil
1 large onion, finely diced
Salt and freshly ground pepper
1 teaspoons sweet smoked paprika
4 thick slices of French bread, toasted
4 ounces extra-sharp cheddar cheese, thinly sliced
Directions
Preheat your oven to 350 degrees.
Place the brussels sprouts in a saucepan of boiling water, cook for 6 minutes, drain and pat dry.
In the meantime, place the oil into a large sauté pan over medium heat. Once the oil begins to shimmer, add the onion and a few pinches of salt and pepper and sauté the mixture for 5 minutes. Sprinkle in the paprika, cover the pan and cook for 10 minutes, stirring occasionally.
Place the boiled brussels sprouts into the pan and cook for an additional 5 minutes.
While the sprouts are cooking, place the bread on a baking sheet and top with the cheese. Place the pan in the oven for 3-4 minutes or until bread is toasted and cheese is melted.
Season the brussels sprouts mixture to taste with salt and pepper and then spoon the mixture onto the bread slices. Serve immediately.