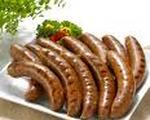 Prep: 12 hr 15 min
Cook Time: 45 min
Total: 13 hr
Serving: 8
Brunch Dish is a special gift for the busy holiday cook. This dish is made ahead of time and refrigerated overnight.
Ingredients
12 slices white bread, trim crusts
1 pound mild sausage, browned, drained
2 jars Kraft Old English cheese spread or Velveeta cheese, cubed
3 cups milk
3 eggs, beaten
1 teaspoon dry mustard
3 tablespoons butter, melted
1/2 teaspoon seasoned salt
1 cup corn flakes, crushed
Directions
Place 6 slices bread in bottom of 9 by 13 inch greased casserole.
Crumble browned sausage over bread. Add cheese in spoonfuls or cubed over sausage. Place 6 remaining slices of bread on top.
Combine milk, eggs and seasonings and pour over bread. Cover with plastic wrap and refrigerate overnight.
Just before baking, add crushed corn flakes and drizzle 3 tablespoons butter on top. Bake uncovered at 350 degrees F for 45 minutes.