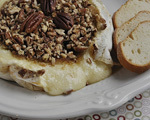 Prep: 10 min
Cook Time: 20 min
Total: 30 min
Serving: Makes 1stuffed brie round
Instead of merely serving a round of brie at your next cocktail party, present this lavish appetizer with delicious flavor and beautiful presentation.
Ingredients
1 brie
brown sugar
chopped pecans
Directions
Preheat the oven to 350 degrees and place a piece of foil on a baking sheet.
Using a sharp knife, cut out the middle of the brie, leaving about a 1/2-inch rim border, and then cut down into the brie about 1/2-inch and remove the cheese.
Fill the space with brown sugar and then top with the chopped pecans.
Place the brie on the prepared baking sheet and place in the oven for 20 minutes.
Serve with an assortment of crackers.