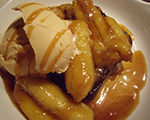 Prep: 5 min
Cook Time: 10 min
Total: 15 min
Serving:
The delicate and naturally sweet flavor of the banana pairs beautifully with the brown sugar and rum in this simple dessert recipe.
Ingredients
2 tablespoons brown sugar
1 teaspoon butter
1/2 teaspoon canola oil
2 tablespoons dark rum
1 teaspoon lime juice
1/8 teaspoon ground cinnamon
2 small bananas, quartered
1/4 cup Greek-style plain or vanilla yogurt
Directions
Place the brown sugar, butter and oil in a large saucepan over medium heat and cook, stirring frequently, until thick and bubbly.
Stir in the rum, lime juice and cinnamon and continue to cook for about 3 minutes until mixture becomes thicker and syrupy in consistency.
Place the bananas in the saucepan and cook for about 4 minutes, stirring frequently to prevent sticking.
Evenly divide the banana mixture between 2 dessert bowls and dollop with a spoonful of the yogurt.